Martin Mawyer takes top news stories weekly and gives them a painful Saturday Smackdown. So here are the Smackdown lashings for the week of 1.28.23.
Teen taken from grandparents ends up in the hands of pedophile
This is an alarming story. A 14-year-old runaway from Virginia, who sex traffickers sexually abused in two states, can thank public officials in Maryland for her nightmare ordeal after they refused to return her to her parents in the name of gender equity.
The loathsome officials with the Baltimore Public Defender's office refused to return the girl, Sage – a teen born a girl who began identifying as a male named Draco before she ran away from her Virginia home.
Why did they refuse to send Sage home? Because they accused Sage's grandparents, who are her adoptive parents, of "misgendering" her.
That decision by Baltimore public officials triggered a living hell for Sage.
She wound up living on the streets of Baltimore, where she was "rescued" from a convicted sex offender who abused her in unimaginable ways, including raping her multiple times.
Maryland officials then put her in an inner-city group home, where her abuse continued, instead of returning her to Virginia because, they said, her parents didn't sufficiently recognize her transgender identity.
"It is not possible to return the child to that home," ruled Judge Robert B. Kershaw after Baltimore Assistant Public Defender Aneesa Khan urged him not to return Sage home.
This judge must be impeached for putting woke ideology ahead of Sage's safety.
And in another shocking development, Khan is alleged to have advised Sage to lie to officials that her parents abused her to avoid being returned home.
Sage eventually ran away from the juvenile home she was living in Baltimore and fled to Texas, where she once again wound up in the hands of sex traffickers who sold her to pedophiles. But unlike the monsters in Maryland, Texas officials sent her home, where she is still recovering from her trauma.
Needless to say, Khan is now the focus of a well-deserved ethics investigation. In fact, the family and several agencies are filing "multiple lawsuits" on behalf of Sage.
Tragically, the trauma Sage suffered at the hands of sexual predators was equaled only by the trauma she suffered at the hands of foul officials in Baltimore.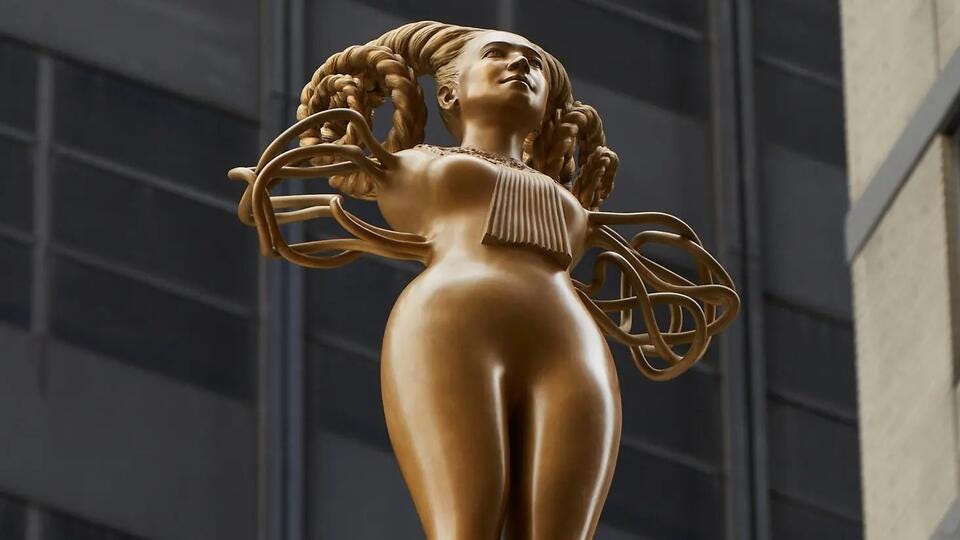 'Satanic golden Medusa' abortion statue erected at NYC courthouse
It's not easy to combine Satan, Medusa, and abortion into one piece of artwork. Still, one so-called "artist" has managed to pull it off – and now his masterpiece sits atop a New York City courthouse, appalling onlookers.
The statue – which stands eight feet tall – was created by Pakistani-American artist Shahzia Sikander.
With curling braids and tentacle-like arms like the mythical Medusa, it rises from a lotus flower as an homage to … wait for it … Ruth Bader Ginsberg and her fight for abortion.
In addition, the Medusa statue is adorned with the late Supreme Court Justice's signature lace collar.
Its creator issued this word salad interpretation of his work: It's part of an "urgent and necessary cultural reckoning underway as New York reconsiders traditional representations of power in public spaces and recasts civic structures to better reflect 21st-century social mores."
He added that he calls his piece "NOW" because it is needed in a moment when women's reproductive rights have been under siege since Roe v. Wade was overturned.
We're in a new era when "art" – hideous art, at that – is created to honor the killing of unborn babies. So why not just erect a statue of an abortionist with a scalpel in hand atop the courthouse?
New York City Councilwoman Vickie Paladino summed up the consensus of opinion. "Was there any public input whatsoever before a satanic golden Medusa demon with tentacle arms was installed atop a downtown courthouse?" she asked. "Who thinks this is OK? And how do we go about removing it?"
We have an answer for Ms. Paladino: The sculpture will be removed in June when it will head to Houston, Texas, where the residents there will be the next unfortunate ones to be horrified and disgusted by the statue.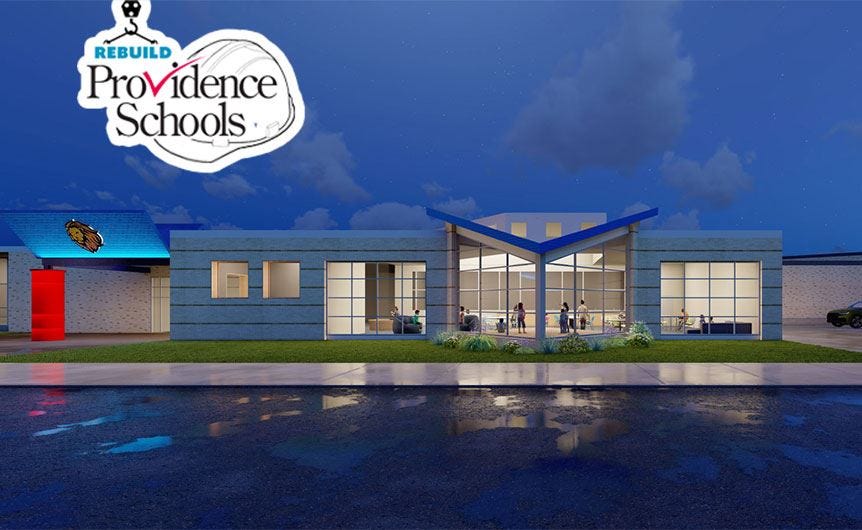 Only 'educators of color' invited to RI school racist equity event
Racism in our public schools is alive and well. And so is segregation … but this time it's the "people of color" who segregate the whites.
For a good example, look no further than Rhode Island, where a school department is accused of violating state and federal anti-discrimination laws after it invited "educators of color" only to a teachers' event.
A legal group has accused the Providence, RI, Public School Department (PPSD) of excluding white teachers at this "Educators of Color" event and on a continual basis.
"PPSD is so obsessed with its equity agenda that it has crossed legal lines, engaging in open discrimination against white teachers," a legal advocacy group called Legal Insurrection states. "We saw open discrimination in the new teacher loan forgiveness program, open only to non-whites. Now PPSD is organizing and promoting segregationist teacher affinity programming."
The controversial event was advertised on PPSD's Facebook page a few weeks ago, inviting "educators of color" to attend an event called "emPOWER: PPSD Educators of Color Meet Up."
It was billed as a "professional networking" opportunity sponsored by the PPSD, the central governing body presiding over the public school district in Providence. It serves more than 23,000 students in 43 schools.
There is a postscript to this story of racism and segregation in public schools.
At the last minute, because of the firestorm created by the exclusion of white teachers, the PPSD added a box on its registration form to include a "white" option under race/ethnicity … which didn't exist until just before the event.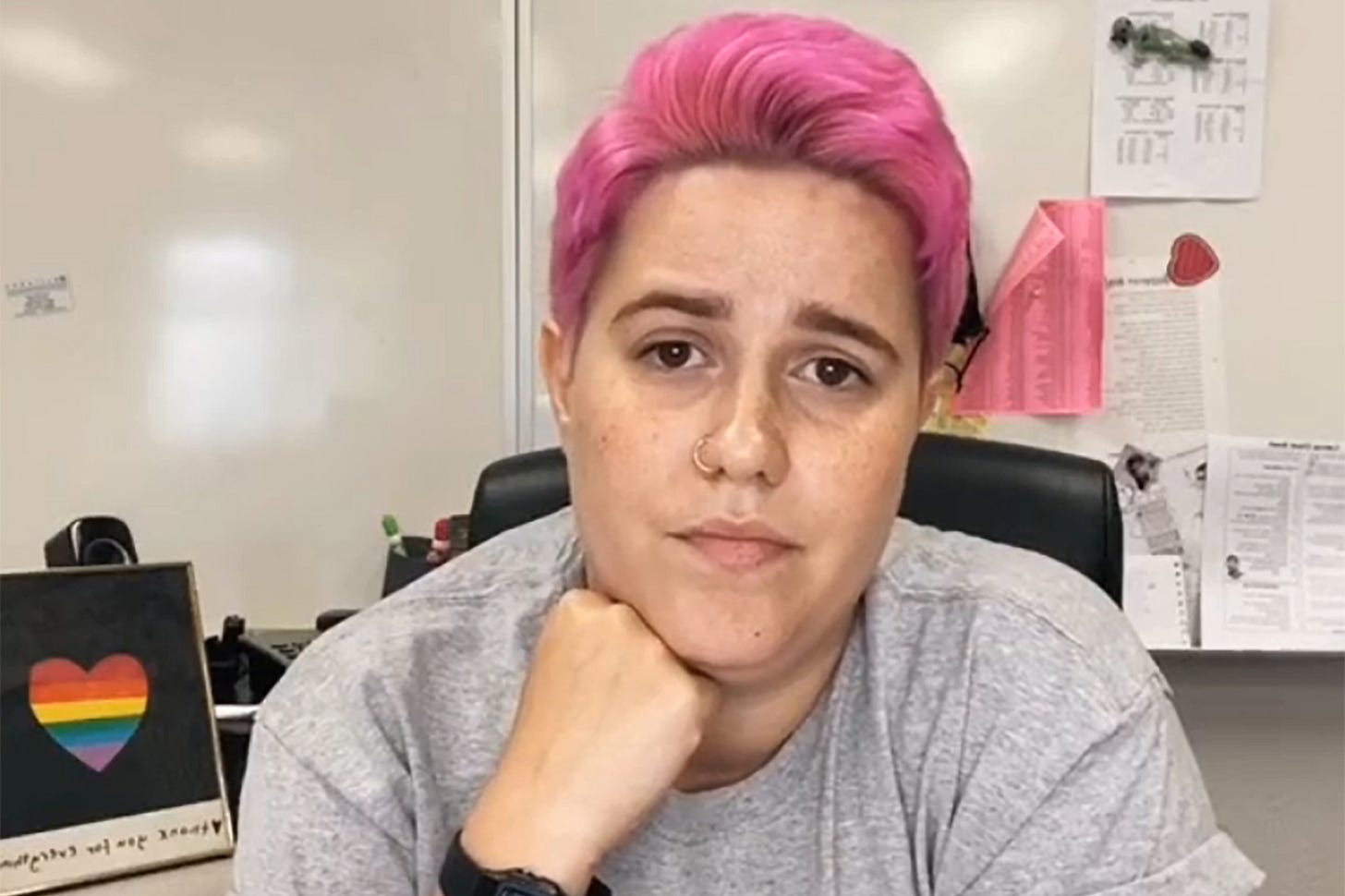 Calif. teacher helps students hide gender identity from parents
Remember when teachers used to help students with reading, writing and arithmetic? Well, now they're helping students in a whole new way – and it's not helpful at all.
A California high school history teacher openly admits that she helps her students change their gender identities without their parent's knowledge.
Olivia Garrison claims to be nonbinary, which is woke gobbledygook language meaning neither male nor female, and says it's her job to "protect kids" – "sometimes from their own parents."
Thank you, Olivia, because we parents only conceive, bear, raise, support, and instill values in our children. As a complete nutjob outsider, what you do is so much more important. Well, that seems to be Olivia's message, anyway.
The California district in which she teaches has forms that allow students to change their preferred names and genders without a parent's signature. Garrison wholeheartedly supports the movement and even brags about her "queer safe space classroom."
One parent, Jessica Bradshaw, said she learned about her 15-year-old's gender transition after reading about it on a worksheet.
"There was never any word from anyone to let us know that on paper, and in the classroom, our daughter was our son," 'Bradshaw said. "It felt like a parenting stab in the back from the school system. It should have been a decision we made as a family."
Actually, it should be a decision NEVER made by anyone, even the parents.
Children – underage, mind you – should NEVER be allowed to transition or be groomed by their schools or parents into a new, woke, false sexual/gender identity. They should get mental health treatment instead of a set of new pronouns and chemically castrating medication.
Despite what the schools say about protecting students, they are not creating "safe spaces" – but are instead creating an army of confused, sexually exploited young people who may never be able to function normally in society – shame on all of them.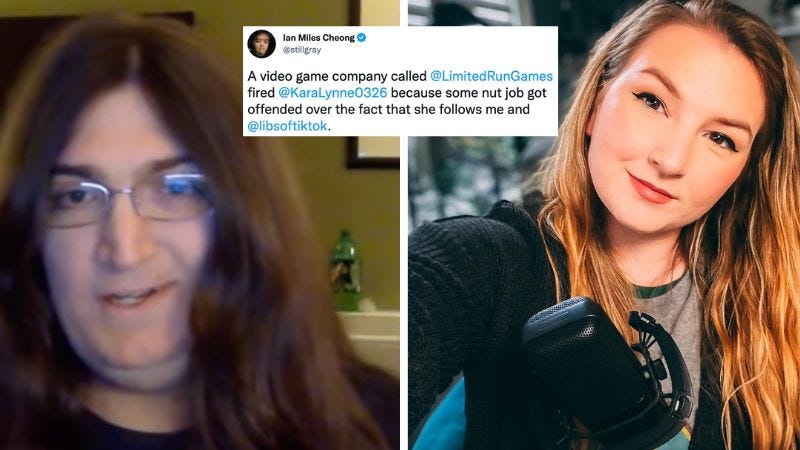 Woman canceled by pod people over 'Harry Potter' tweet
There's a classic scene in the 1978 film "Invasion of the Body Snatchers" in which one of the characters who has evaded being taken over by the pod people runs across the lead character, played by Donald Sutherland, and quietly confides in him that she is still human.
When she last saw him, he too was on the run from the evil pod people. But when she tells him she's still human, he points his finger at her and delivers that terrifying and infamous shriek exposing her to the braying pod mob.
That's what comes to mind when we hear story after story about the social media mob going after anyone it doesn't agree with in a deranged attempt to turn everyone into clones of themselves.
In this case, the victim is a video game company manager who was savaged online for being a "transphobe" – and ultimately fired after the pod people convinced her employer to sack her.
The woman, Kara Lynne, said she made an innocent comment online that she was looking forward to the Harry Potter video game Hogwarts Legacy's upcoming release. She tweeted: "I'm personally looking forward to it."
Well, she could not have said anything more insulting to all the transgender pod people who despise the Harry Potter author, J.K. Rowling. Rowling refuses to agree with the pod mob that men can be women, and women can be men, so she is in the pod mob's crosshairs.
The pod people have labeled Rowling – a self-proclaimed progressive – as a TERF, which stands for a trans-exclusionary radical feminist. We don't know what that means, but apparently, it's bad to be a TERF because the pod people want TERF blood.
That one innocent tweet by Lynne prompted a vicious online campaign to get her fired, and her morally deficient boss at Limited Run Games obligingly gave in to the pod people.
In a bizarre statement, the company that fired Lynne said it was "committed to supporting an inclusive culture."
I think they meant to say "exclusive" because they excluded their own employee from receiving company support. "Our goal as a company is to continue to foster a positive and safe environment for everyone," they added, taking a line from the woke corporate handbook on double-speak.
How did we get to this pathetic stage in our nation when deranged, mentally ill people who don't even know what gender they are can destroy a woman's life simply because she posted a positive tweet?
We know that what goes around comes around again … and someday, the pod mob may be pointing their ugly fingers and screaming at the transgenders on a rampage to destroy innocent lives.
So there's something to look forward to.